How to Shop Women's Clothing Stores in Barcelona
Tips for finding your favorite women's clothing stores in Barcelona and how to shop here like a local.
One of the most confusing things for me when first moving from the states to Barcelona as an expat was finding great women's clothing stores. Hard to believe, I know, considering this is an enormous city!
The neighborhood we live in has lots of privately owned shops for older women, none of which really spoke to my personal style. I tend to like colors, patterns, fitted clothes with some sort of glam (leather, stone, buckle, etc.) And it seemed I always walked out empty-handed when visiting those shops.
Where the heck did women above the age of 25 and below the age of 75 shop around here??
That was month one of living abroad. And after having been here for more than three years and really venturing outside of my immediate neighborhood, I realized there are some AMAZING clothing stores here for women!
I just had to get to know them. I had to be open to walking inside and not be totally overwhelmed by the maze of clothing options in a foreign country – not an easy feat since styles will of course vary!
Most stores I frequent these days in Barcelona take a modern twist on traditional Spanish trends such as the balloon sleeve top, cropped belly shirt, high-waisted bell bottoms, and mini skirt. I'll admit, some styles are far too Spanish for me to pull off, but others I can't imagine NOT having in my closet!
I wouldn't say my wardrobe has significantly changed but perusing the aisles of my new favorite stores has certainly made me fall in love with certain styles you otherwise might not find in the states.
So if you're a woman that has just moved to Spain and are struggling to figure out which stores are "your stores", read on! There is plenty of variety for different personalities and you won't be disappointed with these options.
How to Shop Women's Clothing Stores in Barcelona
It took me a few months of living here and venturing outside of my immediate neighborhood to find these most popular stores in Barcelona. And now, a week doesn't go by that I'm not popping into one of them to stroll the aisles and be inspired for the new season ahead. So, let's start with women's clothing royalty – yes guys, ZARA…
Have you really traveled to Spain if you haven't set foot inside a ZARA?? The Spanish apparel retail giant specializes in clothing footwear, swimwear, outerwear, jewelry and perfumes. The first time I walked into the giant Zara store located in Barcelona's Passeig de Gracia, my mind was blown and my senses were on overdrive!
Then I came to learn there are more than ten ZARA stores in Barcelona alone! These stores are always crowded, there are always lines at checkout and sizes run out quickly. So walking into a ZARA can sometimes feel like a competition for who can find the latest fashion treasures first!
If you're someone that loves the Spanish take on current trends and isn't afraid to have a bold personal style, you'll love shopping here. Florals, animal prints, embellishments, and leathers are trademarks of ZARA fashion. And most of which I've come to love!
Stepping into an H&M store in Barcelona feels like a touch of home with a taste of expat life. The Swedish retail chain boasts many of the popular American pieces like lounge sets and trench coats while offering Spanish touches like chunky heeled boots and over sized cable-knit sweaters.
If you're the kind of woman that is a tad less electric in your taste of clothing, pop into one of the four H&M stores in Barcelona and you're sure to find something.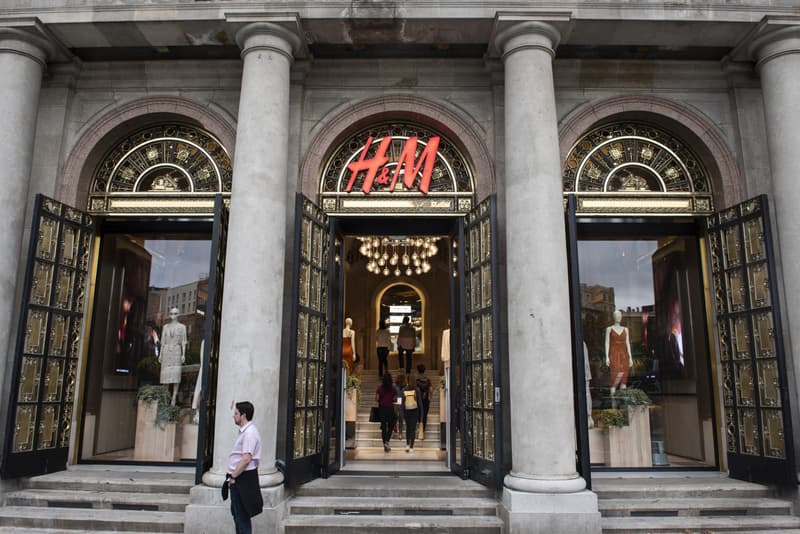 A bit more of a bohemian flair, Desigual designs are characterized by patchwork, intense prints, graffiti art, asymmetry, and bright colors. Your senses will be on overdrive when walking into one of these stores! I love to pop in here just to check out the vibrant colors and patterns and sometimes walk out with a selection perfect for an exciting night out in Barcelona.
And even if I don't always find something, I'm guaranteed to be inspired by their use of color and different textiles! If you love variety and unique pieces in your wardrobe, you'll love Desigual.
Think of Bloomingdales in New York City or Harrods of London! El Corte Ingles is the largest department store chain in all of Europe, and third in the world. While their flagship store is located in Madrid, Barcelona has more than ten locations, its largest in Placa Catalunya pictured here.
Not only does ECI have an impressive women's fashion department carrying some of the most high-end brands of today. But it also includes men's/children/s fashions, electronics, home decor and appliances, beauty/handbag department and a massive grocery store on the ground floor in some locations.
Similar to the popular retail chain in the U.S., LuLu Lemon, you have Oysho. Women love this store, as do I, for finding comfortable high-quality workout wear, pajamas/bras/undies, jumpsuits, and swimsuits in summertime.
Their stores are bright and airy feeling, so naturally one of my favorite stores to visit when the weather starts getting warm here and thoughts of lighter clothing set in.
For me, MANGO is a bit on the conservative side when compared to ZARA, but still the quality is exceptional and styles classic. You'll find that clothing fits well and is a bit more durable over time than some of the ZARA garments. It's also a bit more expensive than it's retail giant competitor as well.
If you love pant suits, blazers, floral long dresses and skirts, and solid basics you'll never walk out empty handed at MANGO and with more than five locations around the city, they're also easy to find.
Depending on your age, you might find this one to be a bit too youthful – but I love going into Stradivarius and feeling like I'm still in my 20s! The prices are very reasonable, almost cheap! And the inventory is plentiful for the most part. So when I want to give one of the Spanish fashion trends a try for one season and don't want to spend a ton of money in the process, I usually pop into one of these stores.
Denim skirts, embellished jackets, fun and flirty blouses, trench coats, studded boots are all some of the on trend clothing items you'll find during a visit to Stradivarius.
Massimo Dutti is a Spanish clothes manufacturing brand that is part of the Inditex group along with the ZARA and MANGO brands. Despite the Italian name, "Massimo Dutti" is not a fashion designer, nor a real person, but a trademark. It is a wholly owned Spanish company.
You'll find the clothing here is on the pricier side for women (and men's) stores in Barcelona. But you often pay for what you get, yes? While you may not find the flashy prints and latest magazine trends here, you won't be disappointed by the high quality you receive. I often shop for my husband here and always find something that compliments his conservative, professional wardrobe.
When to Find the Best Sales
Similar to other parts of the world, the change of season is always a good time to catch sales from leftover pieces. Even Black Friday is a "thing" here in Spain, I found funny during our first year, since Black Friday initiated of course in the U.S.
But ultimately, if you want to really score on massive sales (I'm talking practically the entire store 75% off!), your best times are January and August. And these aren't just one weekend-only sales!
For the ENTIRE months of January and August (post Christmas and end of Summer), retailers slash prices on literally everything in their stores! Colorful signs don store windows and shopfronts, lines at the registers are consistently 15 people deep and shoppers can be seen digging through racks like dogs digging for bones.
It's quite the scene, I must say! And over the years I've learned NOT to wait until the crowds thin off. Because what you'll find is left over sizes and styles. Best to battle the crowds and join em for a chance of getting some steals!
A Word About Gift Cards and Coupons
To be blunt, they don't exist here! Okay I shouldn't say that NONE of the clothing stores offer gift cards or coupons – but they are random and sporadic – nothing like in the United States!
Back home, the weekly newspapers are practically bursting with circular flyers and coupons – all meant to beckon shoppers in to make purchases.
The larger stores here like El Corte Ingles and H&M will offer gift cards. But many don't…and aren't planning to any time soon! One time I went into an upscale clothing store near home to purchase a gift card and I was told to purchase merchandise instead. If the gift recipient didn't like it, they had the choice to return.
This is an example of the culture in Spain slightly behind the rest of the world and something you should be aware of when clothes shopping in Barcelona.
When Trying to Make a Return/Exchange
There is so much leniency in the United States when it comes to making returns or exchanges – especially for the massive retailers like Target, MACY's and Walmart.
Many stores have a 60-day return policy and as long as you come with the original receipt, you can get your money back. No receipt? You'll most likely receive a store credit. I just love the convenience of American consumerism!
Which is why I was shocked and slightly outraged when shopping in Spain. The system for returns and exchanged is very black and white. No gray whatsoever!
Shoppers have 30 (sometimes 60) days to return/exchange and must have the original receipt. One day beyond the maximum and you're stuck with a garment you don't plan to ever wear! No store credit, nada! So don't get stuck with a purchase you no longer want simply because you failed to return it within the return policy period.
Have a story you'd like to share about shopping for clothing in Barcelona? I'd love to hear it!